Lyngby Hovedgade 80, 2800 Kgs. Lyngby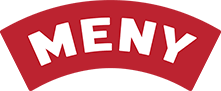 Food enthusiasts
Meny has one of the largest selections of groceries in Denmark, and Meny in Lyngby is no exception. Here you'll find, among other things, butcher's meat and fresh fish which is cut and prepared by our excellent butchers and fishmongers. If you need a great wine for your meal, we also have a large wine section, where we can help you choose the perfect wine. Our large selection of groceries is a mix of the things you use most during the week, and the things you only buy occasionally, when you need something extra to brighten your day. With our basic groceries and our Discount Match we are actually not more expensive than many of the other supermarkets and discount stores. When you shop in Meny in Lyngby you'll not only get basic groceries at a fair price. You'll also find specialty groceries which you probably won't find in the discount stores.
Food universe
On Menys website you'll find a universe of food. On the website there are plenty of delicious recipes. The recipes are divided by time used cooking the meal: from under 30 minutes to 120+ minutes. Meny also publishes the magazine Spisetid (mealtime), which you can read on the website or find at one of our stores. In the magazine you'll find food tips, recipes and articles on food trends. On our website you can also order food for your next party. Whether it is a large party or just a small gathering, we have a delicious menu for you. Visit our website and explore our food universe.
Besides a butcher and fishmonger, we also have a Farumhus bakery in Meny. Here you can buy freshly baked bread and delicious pastries.
At Meny all our staff are passionate about food, and love servicing our customers, so stop by our store at Lyngby Hovedgade next time you go shopping.