Kgs. Lyngby – your summer city: The hunt for the crown – treasurehunt for kids
July 4 // 11:00

-

August 8 // 15:00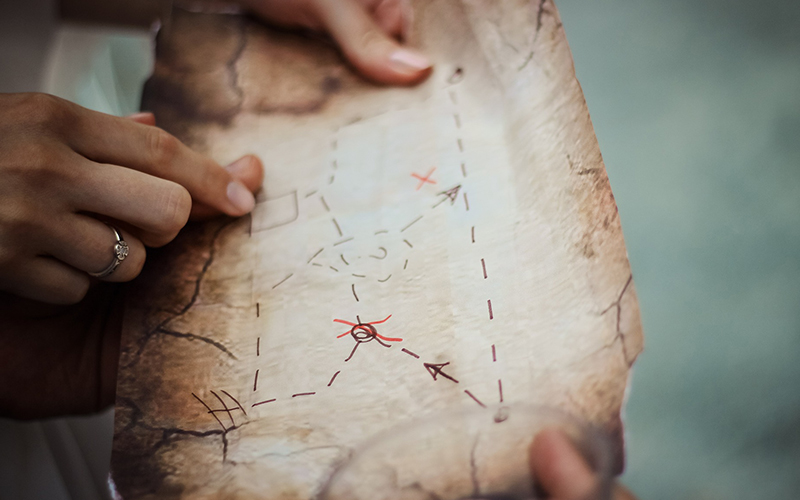 Join a wild adventure through Kgs. Lyngby with the Fairytale Knights (Eventyrridderne). The landmark of Kgs. Lyngby and the pride of the municipality has been stolen. A simple thief has snuck his way into Sorgenfri Castle unseen and stolen the crown. Kgs. Lyngby is no longer the king's Lyngby, but just…Lyngby.
Find the key
But the Fairytale Knights know where the crown is. The thief has been SO CHEEKY and has placed it visibly for everyone to see – but locked away. On the grass near the Volunteer Centre (Frivilligcentret) and in front of the library, stands a glass case with the crown inside and a big old padlock. In front of the glass case lies five keys in five different colours.
Get help from historical figures
The situation seems bleak but luckily the old heroes of Lyngby are ready help. People with a love of Kongens Lyngby has stepped out of history as friendly ghosts, to help the young heroes of our time solve which key can open the glass case.
Be part of the exhilarating treasure hunt around the city and find the right key.
Turn up here
Turn up at the following manned posts between 11 am and 2 pm.
The lawn next to the Northern Mill – Lyngby Hovedgade 24
The alley between the bookstore and Danske Bank – Lyngby Hovedgade 23
Between Café Picasso and Imerco on Lyngby Hovedgade
Kulturtorvet – behind Magasin and Johannes Fog
The garden behind Toftebæksvej 3
The end scene with the answer to the puzzle takes place every 30 minutes from noon until 3pm on the lawn in front of the Volunteer Centre (Frivilligcentret) – Rustenborgvej 2A – by the library.
The treasure hunt is repeated August 1 and 8.