Music on the move August 29
August 29 // 11:00

-

14:00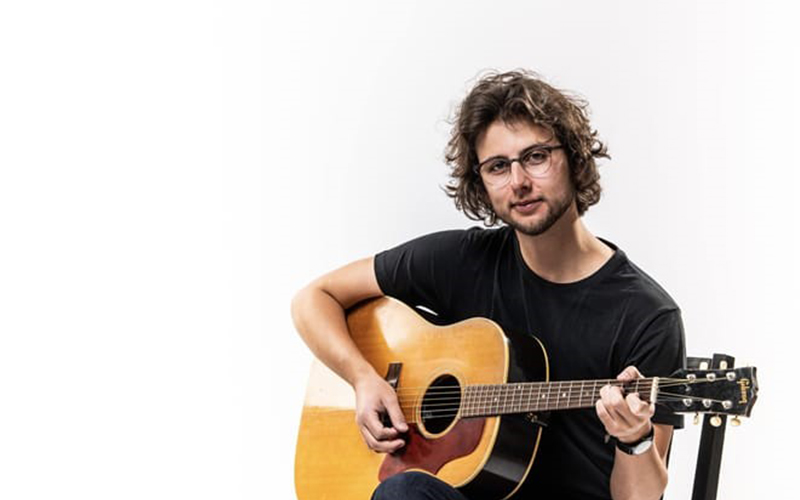 Four Saturdays during summer you can experience music in the streets all around Kgs. Lyngby, when mostly local musicians spread a nice atmosphere in the city with "Music on the move". The Musicians will walk around and make short stops where they will play a few numbers before they move on. While you're passing by you will be able to listen to everything from pop to folk rock and country music.
Singer-songwriter
Saturday August 29 you can experience Oscar Mukherjee (MUH-kar-dji) who is a singer-songwriter with roots in pop, rock, folk and blues. Despite his young age he has developed his completely own style which draws on John Mayer's guitar playing, Ron Sexsmiths vocal and Jeff Buckleys blue tone.
Nominated for a Danish Music Award in Blues
Mukherjee has grown up in USA but came to Denmark in 2009, where he found his way into the Copenhagen blues scene. At only 22 years of age, he has already been nominated for a Danish Music Award in blues and twice he has been chosen to visit the House of Songs in Austin, Texas, and Betonville, Arkansas. He has also performed at Folk Alliance International in New Orleans and Americana Fest UK in London.
In 2017 he came out with his first EP "Solid Shade of Blue" with Rune Kjeldsen (Savage Rose, Hush, C.V. Jørgensen and more) as producer. Mukherjee's new EP "Sentimental Sleep" is out now, which received great reviews and airplay on P4 – and now he is ready to perform live in the streets of Kgs. Lyngby.
Other dates for "Music on the move" are July 18, July 25 and August 22.
It is the Danish music booking platform UNCOVERmusic.dk that are behind the concept of "Music on the move".